[May 2021. Please note: Always obey regulations regarding travel and covid-19 protocols. This post is intended as inspiration for a visit when travel is safe again.]
With the increasing prevalence of vaccine availability, it seems like there may be an end in sight for the covid-19 pandemic. As nations forge ahead with vaccine passports and quarantine exemptions, it seems countries are gambling on a number of different approaches to make travel as safe and feasible as possible in the near future.
For many engaged couples in the United States who have had to delay or postpone their wedding due to the coronavirus, the recent announcement from the CDC – that travel is safe for fully-vaccinated persons – is a heartening sign that the situation is improving. You may be dreaming of the perfect honeymoon getaway after so many months of lockdowns and stay-at-home directives, but with international travel still largely up in the air, a domestic honeymoon may be your best chance at some R&R right now.
Enter: the boutique hotel. These bespoke lodging options are perfect for couples seeking an intimate, romantic stay with thoughtful details and elevated service. This makes for an extra-special visit for newlyweds hoping for a memorable experience; after a year of not travelling, perhaps it's worth the splurge. With that in mind, I've rounded up ten boutique hotels perfect for honeymooners in the United States- if you could splurge, which one would you stay in?
Hotel Arras, Asheville, NC
This vibrant, artsy city in the Blue Ridge Mountains of North Carolina is perfect for couples looking for a mix of outdoor adventure and relaxed city vibes. With breathtaking hikes, quirky galleries, and international cuisine, Asheville offers a variety of activities for curious honeymooners. After a busy day out, rest your head at the Hotel Arras. The property is in the heart of downtown Asheville and boasts panoramic mountain views as well as décor inspired by the city's nickname, "The Paris of the South." Hotel Arras describes its accommodations as "a blend of aesthetics and comfort featuring urban and mountain views, soothing hues, and local art"- the perfect place for a relaxed start to married life. In-house dining options include Bargello, a Mediterranean fusion restaurant, and District 42, Hotel Arras's own bar and lounge.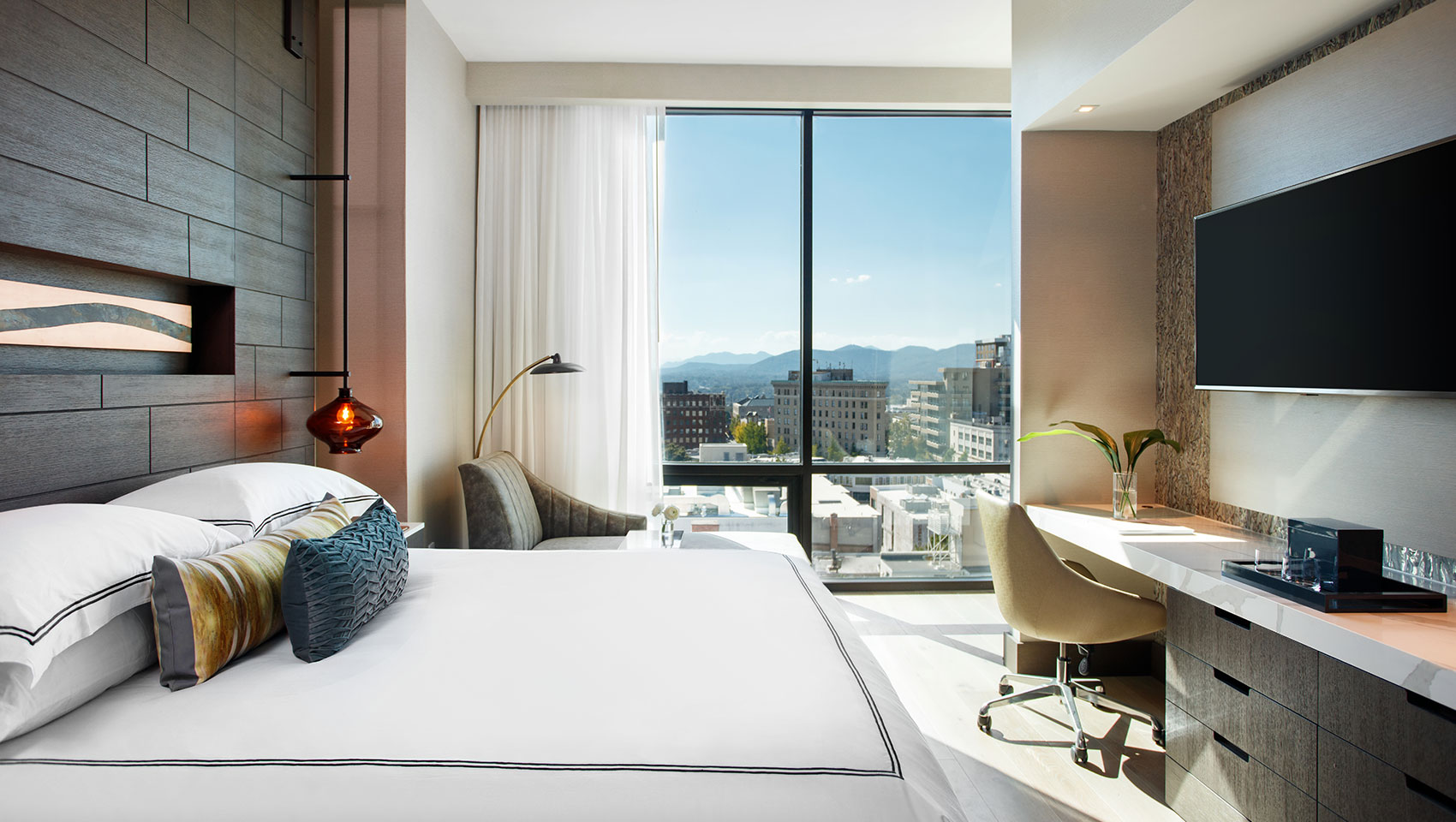 2. Hotel Mazarin, New Orleans, LA
Billing itself as "the diamond of the French Quarter", Hotel Mazarin "elevates the French Quarter experience with luxurious décor accented with gold leaf, black porcelain, and crystal chandeliers." Within walking distance of the boisterous Bourbon Street, Hotel Mazarin offers a tranquil, relaxed retreat so you can recharge from an evening swinging to the jazz and blues that make this city famous. The venue has links with two bars in its neighbourhood, the opulent Patrick's Bar Vin for a delectable selection of wine, and the Prohibition-era speakeasy 21st Amendment at La Louisiane for made-to-order cocktails with a nod to the city's mob bosses.
3. Ten Thousand Waves, Santa Fe, NM
Part spa, part hotel, all luxury- Ten Thousand Waves brings the ambience and atmosphere of a traditional Japanese ryokan to the desert of New Mexico. Even the most basic rooms at Ten Thousand Waves are designed with thoughtful touches to give guests the most tranquil experience possible; outdoor bathing for those staying in the accommodation is complimentary from 10:00am to 8:15pm. What could be more romantic for newlyweds? This is the perfect spot for honeymooners seeking a more exotic retreat heavy on the R&R element- although if you're interested, this boutique hotel offers suggestions for hiking trails so you can commune with nature. And if you'd rather stay in, you and your new spouse can order room service from Ten Thousand Waves's award-winning izakaya restaurant, izanami.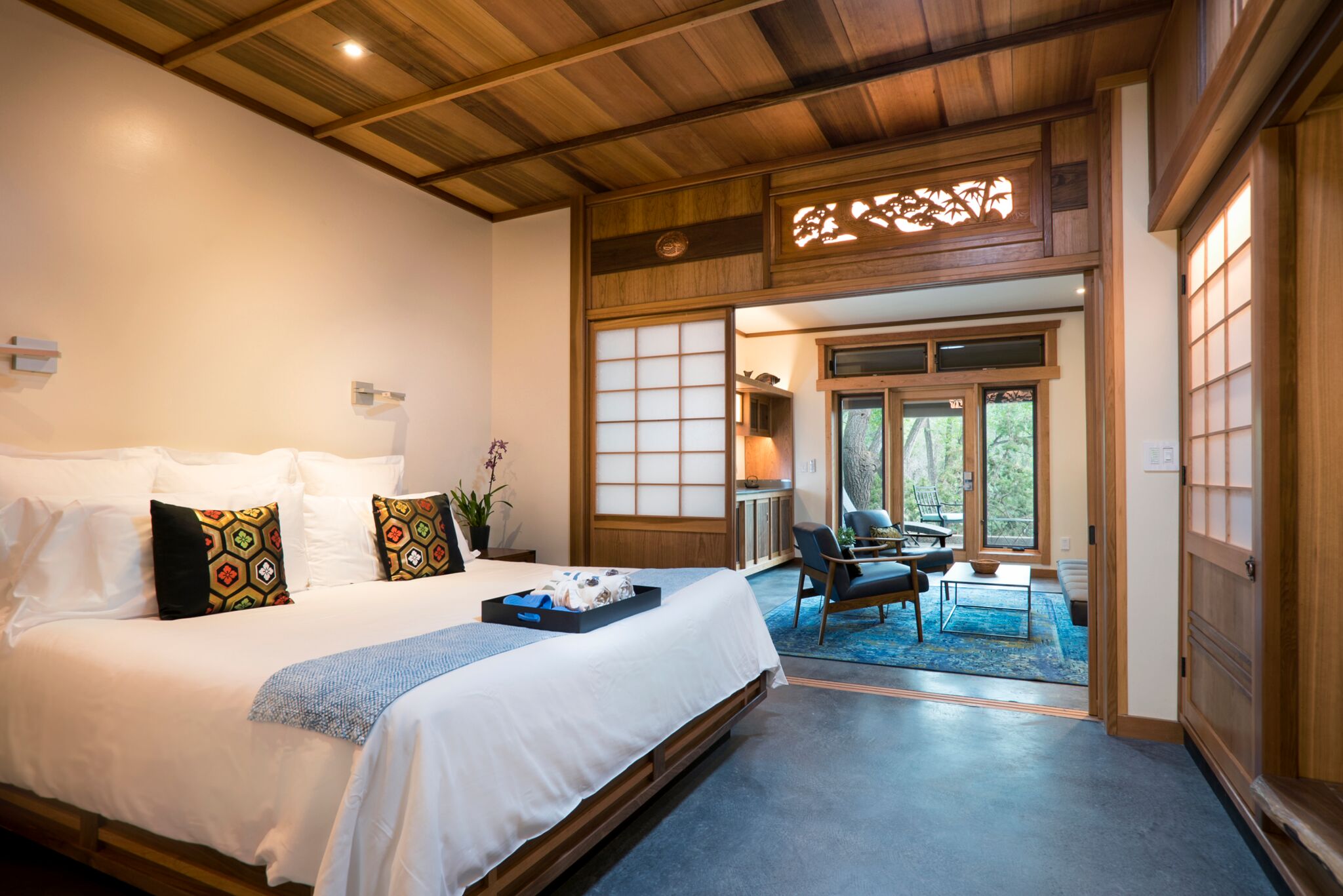 4. Castle Hill Inn, Newport, RI
Newport, once regarded as the playground for American royalty, is the perfect honeymoon destination for couples seeking some Gilded Age flair to start married life. The elegant, opulent Castle Hill Inn is a splurge of a stay. Each of its unique guest rooms balance old-world charm with new-world comforts (including gas jet fireplaces and sea views in some rooms.) The inn also features a luxurious spa and well-appointed dining options to make you truly feel like a Kennedy.
5. 44 Spanish Street Inn, St. Augustine, FL
St. Augustine is America's oldest city, and 44 Spanish Street Inn offers a front-row seat in the heart of its flourishing historic district. Honeymooners seeking Floridian sunshine will love this boutique hotel with vintage charm. A stay here includes breakfast guests rave about and free parking, which is especially convenient given how walkable much of St. Augustine's attractions are from 44 Spanish Street Inn. Each room has its own distinct decor and personality; some even have private porches overlooking Spanish Street. Honeymooners especially will love the romantic Lantana Suite complete with "an inviting in-room corner spa bathtub for two."
6. The Oxford Hotel, Bend, OR
The Oxford Hotel is a sustainable, boutique hotel in one of Central Oregon's most vibrant cities. Conveniently located to both Bend's bustling downtown and some of the Pacific Northwest's most popular natural attractions, the hotel offers luxurious touches like plush bathrobes in every room to truly give honeymooners a special experience. There are activities on hand year-round: take in Bend's thriving arts scene, have a pint (or two) along the Bend Ale Trail, or try out some dogsledding at nearby Mount Bachelor. And, just like forward-thinking Bend, the hotel's "urban, organic décor showcases our dedication to green, sustainable design and hospitality." Dogs welcome!
7. Paia Inn, Paia, HI
Hawaii is a perpetual favourite of honeymooners seeking a warm-weather getaway. There are a nearly inordinate amount of choices to make for a Hawaiian honeymoon, including which island to visit and where to stay. For those newlyweds headed to Maui, consider the Paia Inn. This trendy boutique hotel housed in an historic building has all the trappings you would expect in a surfer's haven, but it offers so much more than that. Guests can book excursions directly through the hotel- if surfing isn't your thing, other options include whale-watching tours, a luau experience, and ziplining, just to name a few. And when you're hungry after a full day out in the sun, Paia Inn's two resident restaurants, VANA and Surfclub, tempt you with fresh sushi or Mexican-style tacos.
8. Fulton Lane Inn, Charleston, SC
Newlyweds flock to Charleston, South Carolina for its romantic charm and foodie-favourite restaurants. The intimate Fulton Lane Inn is the perfect place from which to set out to explore the Holy City. Just off busy King Street, the Fulton Lane Inn oozes elegance and class and feels like a quiet getaway in the heart of the city. With amenities such as a continental breakfast delivered to your room and a wine and cheese reception each evening in the lobby, this boutique hotel has lots of special touches to make a honeymoon truly special. If you like, you can even book their Romance Package to really set the mood.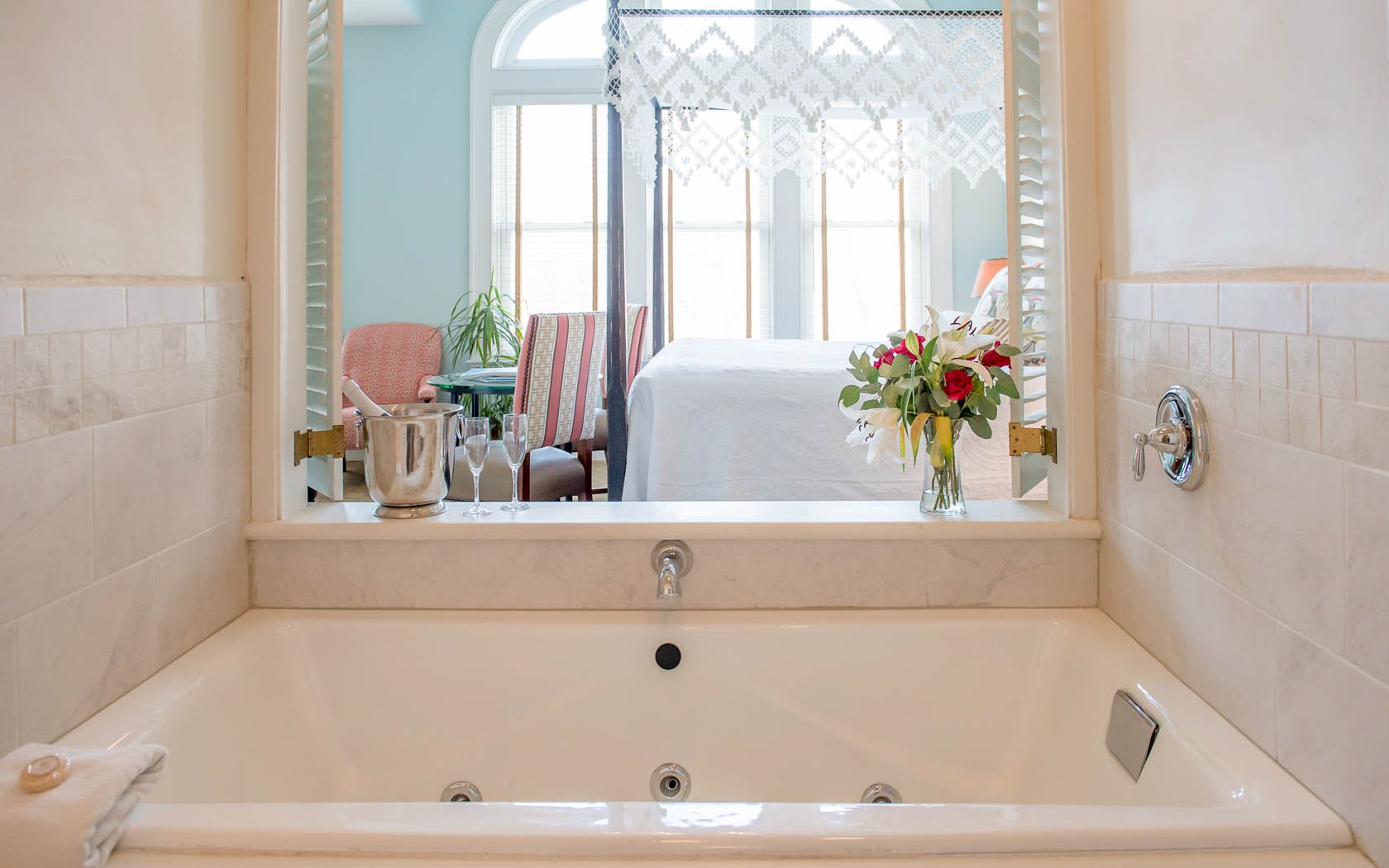 9. Wort Hotel, Jackson Hole, WY
Wyoming may not strike you as the typical honeymoon destination, but the Wort Hotel in Jackson Hole bills itself as the town's finest boutique hotel. This historic building, which first opened in 1941, "features 55 guest rooms, including five sophisticated Western Theme Suites." Jackson Hole is an inspiring destination for the outdoorsy couple, with options for hiking in fairer weather and excellent skiing during the winter months. Services offered include a ski shuttle, daily après ski service, and free entry into the Million Dollar Cowboy Bar, a Jackson Hole landmark. After a busy day out, return to your room with "custom-made furniture and original western art", and slip into a provided bathrobe for total relaxation.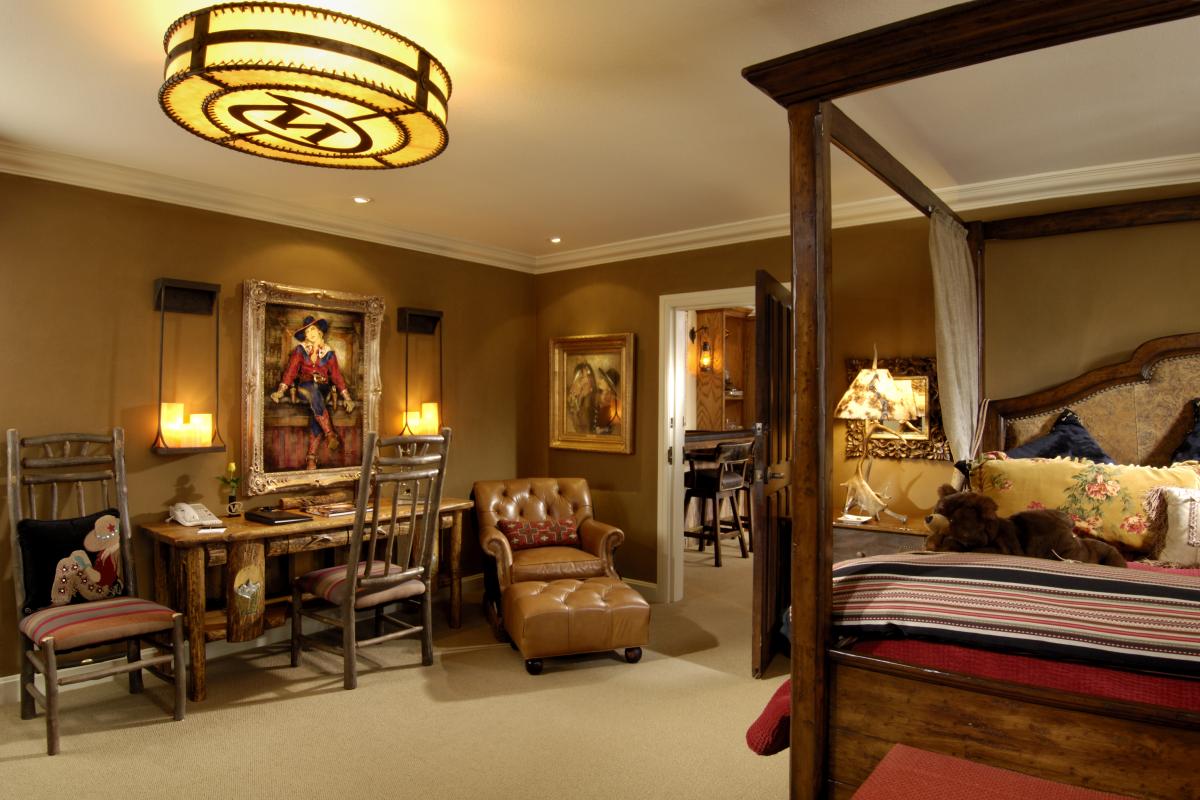 10. The Dreamcatcher Hotel, San Juan, PR
The sunny, indie Dreamcatcher Hotel is located in the fashionable Condado district of San Juan, Puerto Rico's capital. With beachfront access, it's also renowned as the city's only vegetarian hotel, and has a heavy focus on wellness and relaxation. What more could a couple want after the stress and intensity of a wedding? The Dreamcatcher Hotel offer guided tours, salsa nights, paddle-boarding, and morning yoga, as well as in-house dining with a emphasis on local produce. Most rooms are equipped with a private terrace, and each have their own unique style to truly make your stay one-of-a-kind.